News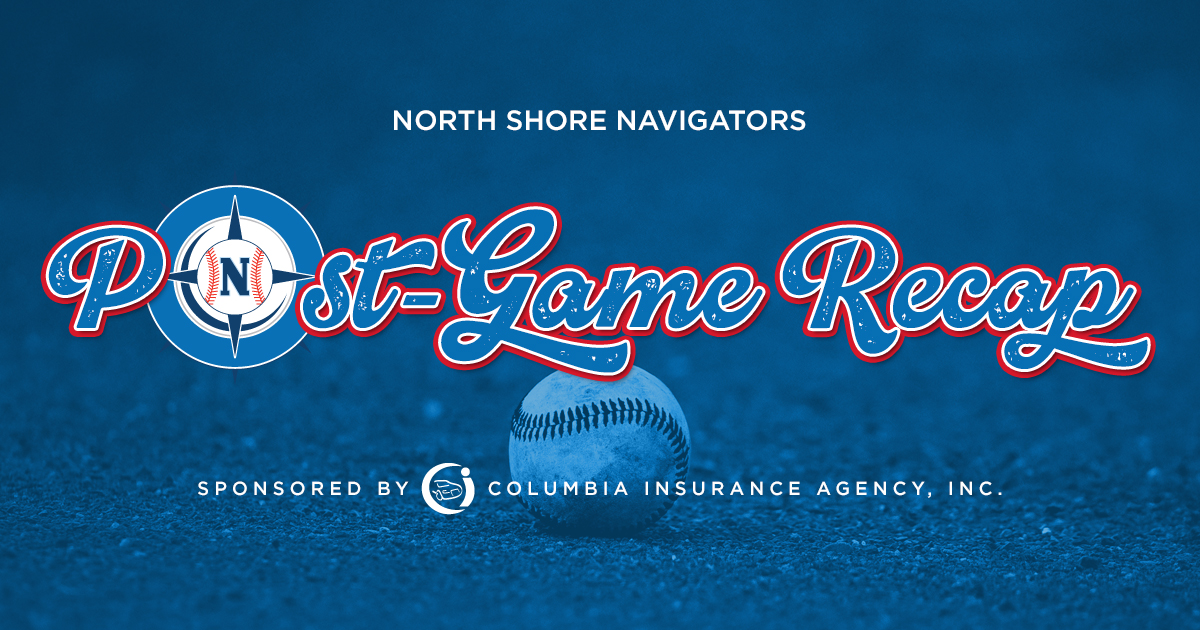 06/08/2018 8:13 PM
By Joshua Kummins
LYNN, Mass. -- The North Shore Navigators piled up seven hits in Friday night's Futures Collegiate Baseball League game, but a two-run top of the ninth inning spoiled starting pitcher Shayne Audet's strong start and lifted the visiting Martha's Vineyard Sharks to a 3-1 win at Fraser Field.
Third baseman Elias Varinos (Tufts) and designated hitter Harrison Engstrom (Cochise) each had two hits to lead the offense for North Shore, which slipped to 1-7 on the season with its fourth consecutive loss. Engstrom recorded the lone RBI.
Audet (New England College) delivered the best starting pitching performance of the summer, allowing just one hit and one walk over five scoreless innings. The reigning D3baseball.com New England Rookie of the Year struck out nine Sharks batters, becoming the third Navs pitcher in as many summers to reach that mark in a single game.
The visitors tagged Navs reliever Stephen Keskinidis (Salem State) for the two game-winning runs in the ninth. After third baseman Jackson Raper (Elon) walked, shortstop Brian Ronai (Yale) lined an inside-the-park home run past the dive of Jeff Mejia (UMass Lowell) in left field.
Audet and Vineyard counterpart Andrew Ferrero (Amherst) traded zeroes over the first three innings before the Navs drew first blood with a single run in the bottom of the fourth.
Varinos led off North Shore's run-scoring frame with a single and stole second base before reaching third on an error and scoring on Engstrom's fifth hit over the last four games. The Middleton native third baseman was one of just three players in the entire FCBL with double-digit hits on the season entering Friday.
After Zach Begin (Saint Joseph's of Maine) relieved Audet, the Sharks tied the game at 1-1 as left fielder Kai Nelson (Georgetown) singled, stole second, advanced on a wild pitch, and scored on center fielder Matt Chamberlain's (New Haven) sacrifice fly.
The visitors had a golden opportunity to extend their lead in the following inning. Begin allowed a single to Sharks shortstop Brian Ronai (Yale) and a walk before retiring the next three batters he faced, including two by way of the strikeout.
Sharks reliever Tate Hagan (Dayton) followed suit in similar fashion in the eighth, stranding two North Shore runners in scoring position as catcher John Prentice (New England College) struck out looking. In the ninth, Ronai posted his second hit of the game in the form of the inside-the-parker, which lifted the Vineyard to its sixth victory on the summer.
Begin and Keskinidis each struck out three over their two innings of relief work for the hosts. Keskinidis was tagged with the loss after allowing two runs on one hit and two walks.
The Navs conclude their two-game homestand Saturday night at Fraser Field against the Nashua Silver Knights. First pitch is set for 6 p.m.