News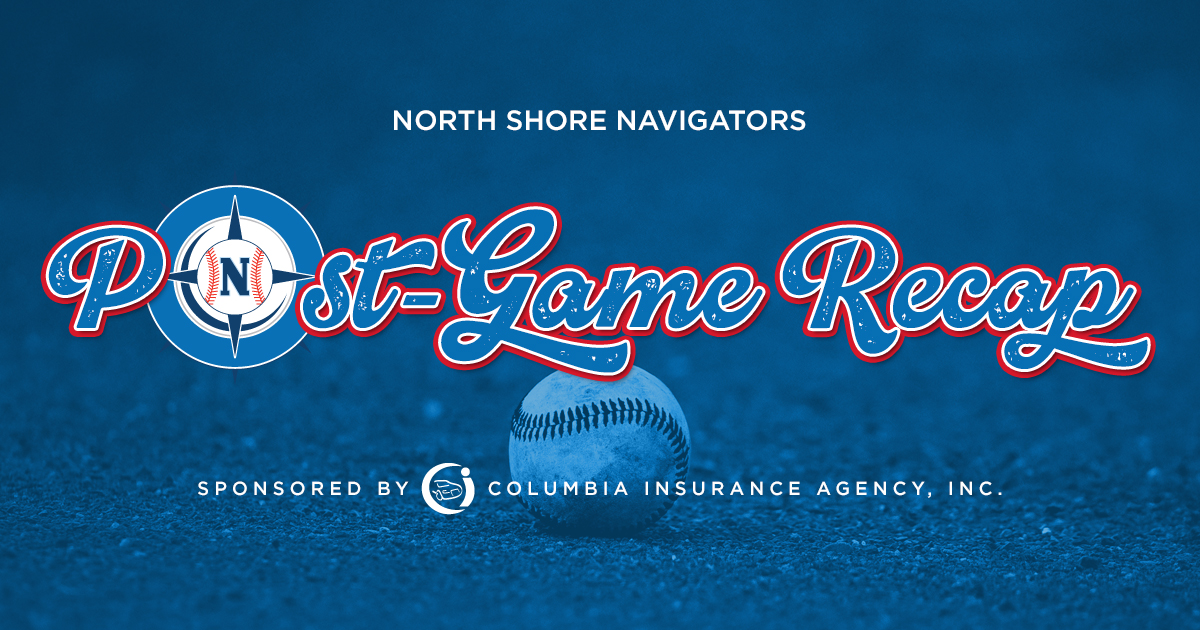 07/07/2018 10:30 PM
By Joshua Kummins
WORCESTER, Mass. – Back-to-back days off did not slow down the bats of the North Shore Navigators as crooked numbers in the sixth and seventh innings were more than enough to down the Worcester Bravehearts, 14-7, in Futures Collegiate Baseball League action Saturday night at Hanover Insurance Park at Fitton Field.
North Shore improved to 12-18 on the season with its fourth consecutive win. Second-place Worcester is now 17-14 but saw its six-game winning streak come to an end.
Third baseman Sal Frelick (Boston College) led North Shore's 13-hit attack with a 4-for-5 effort, tied a single-game franchise record with four runs scored, and drove in five en route to hitting for the cycle. The Lexington native hit his seventh home run of the season during the Navs' four-run sixth inning, putting him one shy of tying another franchise record.
Shortstop Andrew Olszak (Southern Maine) finished 3-for-4, scored three times, and drove in two runs, while left fielder Michael Wynne (Wofford) and first baseman Corey DiLoreto (Northeastern) also crossed home three times apiece.
The Bravehearts drew first blood against Navs starter Zack LeBlanc (Fisher) in the first inning as center fielder Idelson Tavares (SNHU) hit a leadoff single in his debut and scored on a single from shortstop Edward Haus (St. Mary's) in the next at-bat.
Worcester regained a two-run advantage with single runs in the third, fourth, and fifth innings, though the Navs bookended that stretch with runs of their own. Designated hitter Mack Cheli (Chapman), catcher Paul Gozzo (UConn), and first baseman Jack Gonzalez (Tulane) drove in those Braveheart runs with a double and two singles, respectively.
Frelick singled to right for North Shore's first hit of the game and came around to score after second baseman Joey Murphy (Saint Joseph's of Maine) reached on an error, catcher Dominic Keegan (Vanderbilt) singled, and right fielder JP Knight (Tufts) grounded into a double play in the third. Two innings later, DiLoreto was hit by a pitch and stole second before scoring on Frelick's triple to the center field wall.
The North Shore offense came alive for nine runs – all with two outs – over the sixth and seventh innings. Then, a three-run ninth lifted the Navs to a double-digit scoring effort for the third time in four games.
Worcester manager JP Pyne replaced starter Rob Cerulle (Penn) with Brenden Cournoyer (Albany) to start the sixth. Wynne, Olszak and DiLoreto logged two-out singles consecutively, the last of which dropped in center field to plate the Navs' third run of the game. Frelick then cleared the bases and flipped the score with his third three-run homer of the summer.
North Shore sent all nine batters to the plate in the seventh after reliever Peter Bovenzi (Richmond) dialed back a strikeout and induced a fly ball. Designated hitter Harrison Engstrom (Cochise) was then hit by a pitch, Wynne walked, and Olszak broke the game open with a two-run double to deep center.
After DiLoreto wore a pitch for the second time in the game to extend the frame even further, Frelick reached base for the fourth consecutive plate appearance on an intentional walk, and Murphy dropped a bases-clearing, three-run double to left.
LeBlanc allowed four runs on 10 hits over five innings in his second start of the season. As the Navs took the lead for good with the four-run sixth, rising Holy Cross sophomore Garret Keough (Holy Cross) was credited with his team-leading third win for his two scoreless frames.
John Prentice (New England College) fanned two of the three batters he faced in a perfect eighth during his second pitching appearance of the summer for the Navs, then Adam Twitchell (Anna Maria) became the third Worcester reliever to be tagged for multiple runs.
Wynne and Olszak opened North Shore's three-run ninth with singles before Frelick completed his cycle with a double to the center field wall. Two batters later, Keegan contributed more two-out offense with a double to left, rounding out his third straight multi-hit game and fourth in just seven outings as a Nav this summer.
The Bravehearts made things interesting with three runs in the ninth, including two on RBI singles by right fielder Joseph Pesce (NYIT) and Cheli. Ryan Green (Tulane) struck out the last two batters he faced in his inning of work to finalize the score.
Five batters recorded two-hit games and eight hit safely for Worcester, which matched its visitors in the hit column. Tavares scored twice in his summer debut. On the mound, Cournoyer was charged with his third loss.
The Navs return home to Fraser Field for a 5 p.m. Sunday contest against the league-leading Martha's Vineyard Sharks.