News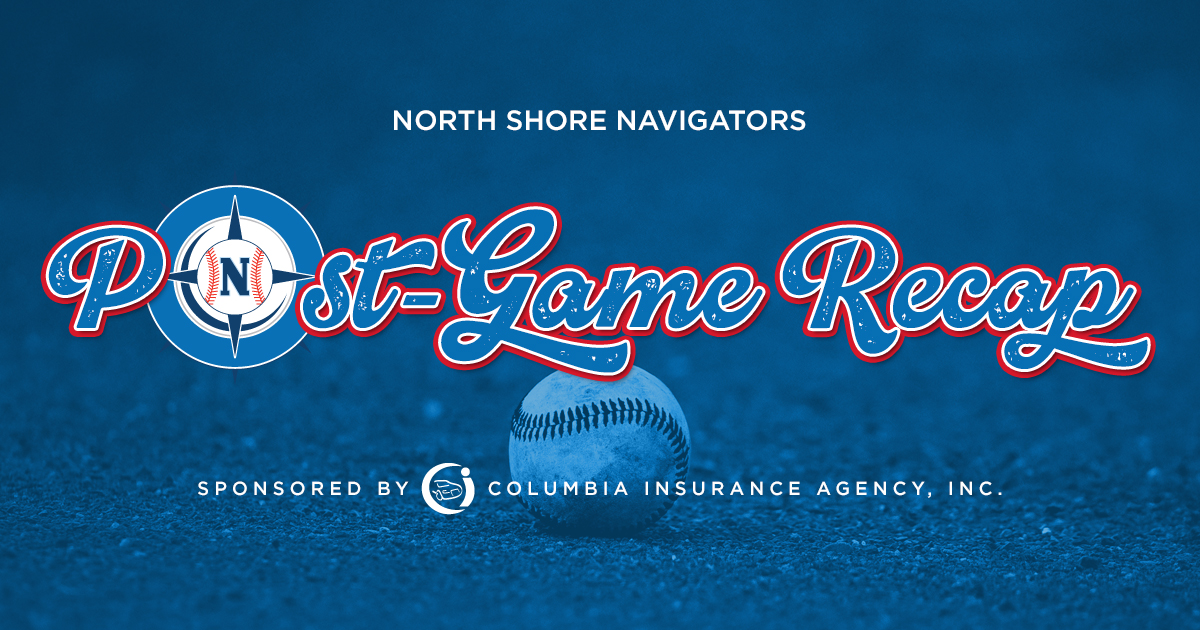 08/03/2018 8:20 PM
By Joshua Kummins
LYNN, Mass. -- Before a Fraser Field crowd of 2,994, the North Shore Navigators scored in five of their eight at-bats and used a three-run seventh inning to edge past the Bristol Blues in Friday's Futures Collegiate Baseball League game and keep their playoff hopes alive with two games remaining in the regular season.
North Shore improved to 19-34 on the summer and curbed a four-game losing streak, thanks to a season-high 16 hits from eight of the team's nine starters. Bristol slipped to 28-23.
Catcher Harrison Engstrom (Cochise) went 4-for-5 with two runs scored, three RBI, and a franchise record-tying three doubles. Right fielder JP Knight (Tufts) and first baseman Mitchell Lundholm (Fisher) each recorded multiple RBI, while third baseman Elias Varinos (Tufts) joined Knight and Engstrom in scoring two runs apiece.
Third-year veteran Cam Lanzilli (Eckerd) held the Blues scoreless over his final two innings and earned his first win of the summer after striking out three over three frames of two-hit, two-run ball. Bristol got the tying run on base with one out in the ninth, but the Stoneham native recorded two of his strikeouts in the final frame to preserve the victory.
Bristol tagged Navs starter Zach LeBlanc (Fisher) for two runs in the top of the first as center fielder Alex Loparco (Western New England) and designated hitter Jimmy Sullivan (Virginia) logged RBI hits, but the hosts immediately took the lead with three runs in their first at-bats of the game.
North Shore strung together six hits to post its first-inning offense, with second baseman Joey Murphy (Saint Joseph's of Maine) and center fielder Michael Wynne (Wofford) recording singles before the Blues' Casey Elbin (WVU Tech) recorded an out. The Tufts duo of Varinos and Knight recorded a single and a triple to center, respectively, to even the score before Engstrom posted the go-ahead knock in the next at-bat.
The Blues scratched across their third run of the game on second baseman Andy Hague's (UConn) sacrifice fly to right field in the second, but Engstrom's two-out double to left scored Wynne with another tying run for the Navs an inning later.
Lundholm and shortstop Andrew Olszak (Southern Maine) led off North Shore's two-run fourth with back-to-back singles. Lundholm scored on a wild pitch with one out before Murphy ripped an RBI knock to right two batters later to extend the lead to 6-3.
Bristol jumped ahead with four runs in the top of the fifth, three of which came into score after right fielder Peyton Stephens (Central Connecticut State) dropped a two-out double into shallow center field. Stephens was one of three Blues to post a multiple-hit game, with catcher Alex Baumann (Bucknell) going 3-for-4 with a run scored and an RBI to lead the group.
LeBlanc worked 4.1 innings in his fifth start of the summer before Ryan Green (Tulane) walked three but pitched scoreless ball and struck out three to bring the Navs through six innings with the score tied.
Lundholm recorded a fielder's choice to score a run in the bottom of the fifth before Bristol plated two more runs to take the lead back two innings later. Baumann drove in the first of those runs with a one-out single.
North Shore took the lead for good as nine batters came to the plate in a three-run, four-hit seventh inning. Varinos was the first of three consecutive Navs to hit safely to begin the inning and scored as Knight sent a double down the right field line and Engstrom followed suit in the next two at-bats. After right fielder George Sutherland (Cochise) moved Engstrom over with a grounder to second base, Lundholm brought home the go-ahead run with a sac fly to center.
The Navs play their final road game of the regular season at 6 p.m. Saturday in Brockton before welcoming Nashua to Fraser Field for Sunday's 5 p.m. finale.