News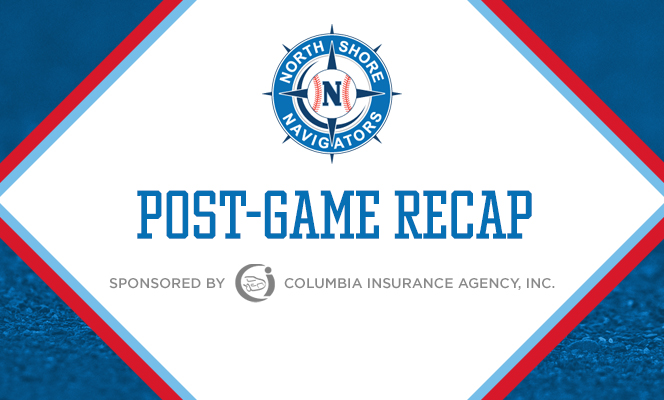 08/04/2018 7:44 PM
By Joshua Kummins
BROCKTON, Mass. -- The North Shore Navigators were officially eliminated from Futures Collegiate Baseball League playoff contention as the Brockton Rox recorded 15 hits and scored at least one run in five of their eight at-bats en route to an 8-1 win Saturday night at Campanelli Stadium.
North Shore slipped to 19-35 with its seventh loss in 10 games, while Brockton enters the final day of the regular season locked into fourth place and holding a 27-28 record.
The Brockton pitching duo of Brendan Mignone (Rhode Island) and George Goldstein (Middlebury) limited the Navs to five hits from five different players. Right fielder George Sutherland (Cochise) scored North Shore's lone run of the game on shortstop Andrew Olszak's (Southern Maine) two-out single in the seventh inning.
The Rox took a 2-0 lead just two batters into the first inning as shortstop Charlie Maxwell (Northwestern) drew a leadoff walk against North Shore starter Dylan Gaita (Plymouth State) and scored on center fielder Joe Lomuscio's (Brown) double to left field. First baseman Dan Marano (Franklin & Marshall) then doubled to left-center field two batters later to double the Brockton advantage.
Gaita stranded baserunners in each of the next two frames before left fielder Jared Sharkey's (Wheaton) two-out double to center field put Brockton ahead by three runs in the fourth inning. Marano and third baseman Zach Gelof (Virginia) logged back-to-back hits with one out in the fifth, and catcher Jack Kelly (Northwestern) drove home Brockton's fourth run on a grounder to first base.
After left fielder Michael Wynne (Wofford) hit a one-out single to right field and designated hitter JP Knight (Tufts) reached on an error two batters later in the first, North Shore did not have multiple baserunners aboard until scoring its lone run of the game in the seventh inning.
Sutherland and center fielder Ben Irvine (Maryland) drew two-out walks against Goldstein before Olszak's single inside the right field line brought home the Navs' lone run in the seventh. Brockton wasted little time adding insurance to its lead in the bottom half of the frame as St. John's Prep grad Jack Arend's (Bates) two-run single to center moved the score to 6-1.
Rox right fielder Matt Johnston hit a towering two-run homer to left field to conclude the scoring in the eighth. The MIT product was one of four Brockton players to post multiple hits in the game. Marano led that group with a 4-for-5 night, two runs scored, and one RBI. Mignone improved to 1-1 on the season for the hosts as he faced just three batters over the minimum through six innings of three-hit ball.
Gaita was charged with his fourth loss of the summer after allowing four runs on eight hits and three walks over 5.2 innings. He struck out four. Danny Ryan (Northeastern) and Tim Unczur (Colby-Sawyer) were each charged with two runs and fanned one batter out of the North Shore bullpen.
The Navs return home to Fraser Field to conclude the season at 5 p.m. Sunday against the Nashua Silver Knights.