News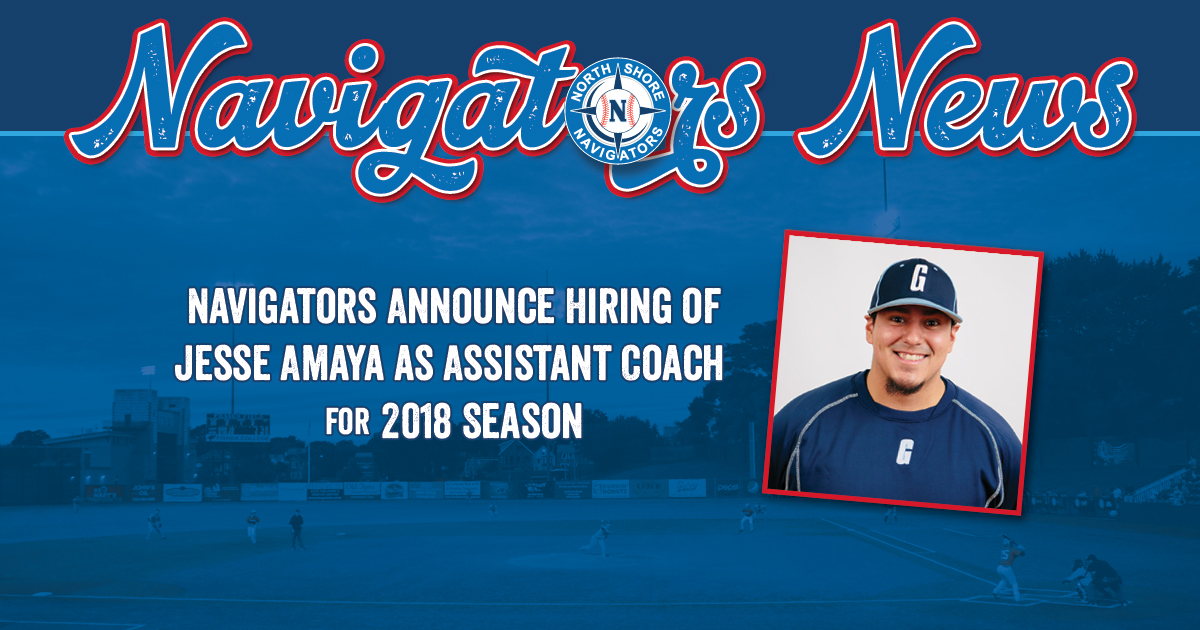 04/09/2018 12:59 PM
LYNN, Mass. -- On Monday afternoon, the Futures Collegiate Baseball League's North Shore Navigators announced the hiring of assistant coach Jesse Amaya to round out their field staff for the 2018 season. He will join first-year manager Todd Alford in the dugout this summer.
Amaya is a 2015 graduate of Gordon College in Wenham, where he played two seasons of Division III ball and is now in the midst of his third year as an assistant coach. In addition to his roles with the Fighting Scots and now the Navigators, the native of South Gate, Calif., serves as an assistant at Salem High School.
"I am extremely excited to join Coach Todd Alford and the North Shore Navigators organization," Amaya said. "Todd is an amazing coach, and I am excited to work with him during the summer to build a fun and competitive summer experience for each player. I am very fortunate for the opportunity to coach baseball and provide players with the opportunity to learn the game, develop, and compete at a high level."
Amaya helped the Fighting Scots qualify for the Commonwealth Coast Conference postseason in each of the last four seasons -- two as a player and the last two as a coach -- under head coach Rob Mansfield. Gordon won a program-record 19 games during the 2014 and 2016 seasons, which were Amaya's first year as a player and first as a coach at the school, respectively.
​Each of the first two Salem High teams he helped to coach won 11 games and qualified for Division 2 North tournament play. Last year's Witches earned a postseason victory. Amaya also founded and served as head coach for the baseball program at Nathaniel Bowditch Middle School in Salem last year.
"Coach Amaya is an outstanding young coach with a passion for helping kids find success on and off the field," said Alford, who also spends his spring as an assistant coach at Gordon. "His tireless work and dedication has benefitted players at Gordon College and Salem High School."
Amaya played two seasons at Rio Hondo Community College in Whittier, Calif., before transferring east to Gordon, where he earned Honorable Mention All-Conference honors at third base as a junior. He also boasts high-level summer baseball experience, having played for the Academy Barons of the California Collegiate League in 2012.
The Navigators open the 2018 season on Thursday, May 31 at Martha's Vineyard before the home schedule at Fraser Field kicks off Saturday, June 2 against Worcester. To book a party deck, birthday party, or to inquire about any other business, please contact the Navigators office at 781-595-9400 or email InterimNavsGM@gmail.com.